Include our styles below Infobox - invoke as >>infobox<< ... >><<
Codebox: - invoke as >>codebox<< ... >><<
warnbox: - invoke as >>codebox<< ... >><<
editingbox: - invoke as >>codebox<< ... >><<
noticebox: - invoke as >>codebox<< ... >><<
Page bread crumbs:

Pages by tags: (:listtags:)
Subscribe to this wiki:

RSS or subscribe to this page for changes:

RSS
496 articles have been published so far. Recent changes
(:addThis btn="custom":)
---
Auto repair:
Gary is a great guy and friend.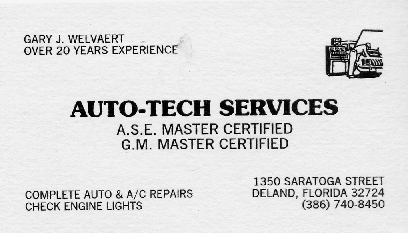 Plumber:
First Quality Plumbing
http://www.firstqualityplumbinginc.com/
746 N Volusia Ave
Orange City, FL
(386) 734-1201
Restaurant:
The first two owners are friends but all serve fantastic food!
Mirino Bakery & Deli
253 N Spring Garden Ave
Deland, FL 32720
(386) 734-9724
Giovanni's La Dolce Vita - DeLand, FL
Bellini's Deli - DeLand, FL
---
Kevin's Public Wiki maintained and created by Kevin P. Inscoe is licensed under a
Creative Commons Attribution 3.0 United States License.
Back to my web site - http://kevininscoe.com