Include our styles below Infobox - invoke as >>infobox<< ... >><<
Codebox: - invoke as >>codebox<< ... >><<
warnbox: - invoke as >>codebox<< ... >><<
editingbox: - invoke as >>codebox<< ... >><<
noticebox: - invoke as >>codebox<< ... >><<
Page bread crumbs:

Pages by tags: (:listtags:)
Subscribe to this wiki:

RSS or subscribe to this page for changes:

RSS
496 articles have been published so far. Recent changes
(:addThis btn="custom":)
---
>>> This page is not yet completed. <<<
>>> Last updated at September 20, 2010, at 11:29 AM EST. <<<
>>> Please check back later or hit refresh. <<<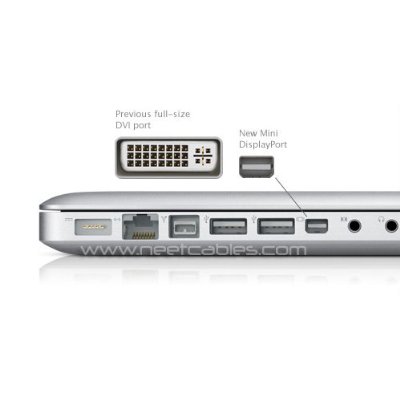 From Wikipedia article dated 2010-09-14 1:23pm ET.
http://en.wikipedia.org/wiki/Mini_DisplayPort
"The Mini DisplayPort is a miniaturized version of the DisplayPort interface. First publicly announced by Apple on October 14, 2008, it is used in all new Macs (MacBook, MacBook Air, MacBook Pro, iMac, Mac mini, Mac Pro, Xserve), and the LED Cinema Display. Also in Toshiba Satellite Pro S500, Tecra M11, A11, S11, HP Envy 14 and 17 notebooks.
Unlike its Mini-DVI and Micro-DVI predecessors, Mini DisplayPort is capable of driving resolutions up to 2560◊1600, commonly used with 30-inch displays. With a suitable adapter, Mini DisplayPort may be used to drive displays with a VGA, DVI or HDMI interface.
On November 27, 2008, Apple announced that it would license the Mini DisplayPort connector with no fee. Apple reserves the right to void the license if the licensee does "commence an action for patent infringement against Apple".
On January 13, 2009, VESA announced that Mini DisplayPort would be included in the upcoming DisplayPort 1.2 specification.
On November 10, 2009, VESA officially announced that the Mini DisplayPort has been adopted. All devices using the Mini DisplayPort must comply with the 1.1a standard."
Adapters:
"Mini DVI" is <b>not</b> the same as "Mini DisplayPort". and I am told it is common for folks to buy the wrong adapter and need to return or exchange them. The "Mini DisplayPort" adapter is used to "Connect new generation Apple MacBook, MacBook Pro and MacBook Air with Mini DisplayPort". This is for newer generation Macs from late 2008 onwards such as the Unibody MacBook and MacBook Pro and Air and also the newer iMacs.
Most slightly older Macs (Including MacBook, MacBook Pro and Air ... <b>up to</b> late 2008) have a different, slightly bigger but similar looking port called "Mini DVI" and this is <b>not</b> the same as "Mini DisplayPort" and will not fit.
Apple's official adapters:
http://store.apple.com/us/product/MB570Z/A (DVI)
http://store.apple.com/us/product/MB572Z/A (VGA)
My trouble with Apple's Mini DisplayPort and their adapters:
Summary:
I recently upgraded a early 2008 Macbook Pro with a new 2010 . Previously I had used a DVI to VGA adapter commonly found with Macbooks to connect it to my Starview KVM when I dock at home. My screen real estate at home is very tight (I store servers and desktops in closets and out of the way) and as such I only have one active monitor being driven through two KVM's (one is older legacy) and fed by at least 8-10 desktops, laptops and servers I have at home. Anyway since I have had the new Unibody Macbook they took away the DVI output and I have strives (so far without success) to send VGA output (the KVM's are at least 4 years old and do not support DVI or digital video in any way) to the KVM's.
At first I bought a Dynex MDP (Mini DisplayPort) to DVI adapter and connected that to a standard Apple DVI to VGA adapter but that did not work. I even tested to an old SVGA monitor and the Macbook did not recognize either the KVM or the older monitor. So then I tried an Apple branded MDP to DVI adapter to a different Apple branded DVI to VGA adapter cable and still this did not work.
My next step will be to try the Apple Branded MDP to VGA adapter. As you can read by the reviews it may not be fun. I will report back how that goes.
A note about the DVI adapter from Apple:
From the reviews:
DVI-D Single Link (Digital only, 1920x1200@60Hz)
    * Written by VT from North York
    * Nov 11, 2008

This is the Mini-DisplayPort to DVI-D single-link adapter.
DVI-D single-link means that ONLY DIGITAL signals will be output, with the maximum supported resolution at 60Hz being 1920x1200 (2.75 megapixels to be exact).
The adapter easily plugs into the Mini-DisplayPort jack of new aluminum unibody Macbooks and Macbook Pros, and the other end is female DVI-D. Be aware that you cannot physically fit your DVI-I cables into the DVI-D female end. However, since all 24 pins are open, DVI-D dual-link cables can physically fit just as well as DVI-D single-link cables, and can be used to carry the SINGLE-LINK signal to your TV or monitor.
I was surprised how light-weight this adapter is; a plus for carrying around. I was worried that the relatively heavier cables would pull the plug out from the notebook, but the adapter fits quite snugly in the Macbook Pro. The two screws on the DVI cable I used could not reach their holes in the adapter (female end is not deep enough), however, it was not a concern since the cable still fit tightly into the adapter.
So, if you donít have a DIGITAL display larger than 1920x1200, this adapter will be fine. Since HDTV is 1920x1080 this adapter is good enough for me. If you are looking to drive larger digital displays, get the dual-link adapter instead. Also, remember that analog is not supported with this adapter.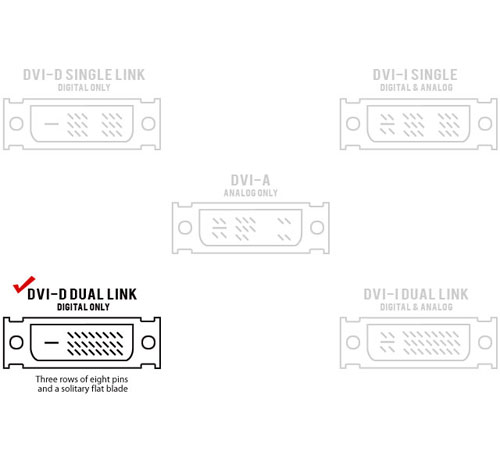 ---
Kevin's Public Wiki maintained and created by Kevin P. Inscoe is licensed under a
Creative Commons Attribution 3.0 United States License.
Back to my web site - http://kevininscoe.com