Include our styles below Infobox - invoke as >>infobox<< ... >><<
Codebox: - invoke as >>codebox<< ... >><<
warnbox: - invoke as >>codebox<< ... >><<
editingbox: - invoke as >>codebox<< ... >><<
noticebox: - invoke as >>codebox<< ... >><<
Page bread crumbs:

Pages by tags: (:listtags:)
Subscribe to this wiki:

RSS or subscribe to this page for changes:

RSS
496 articles have been published so far. Recent changes
(:addThis btn="custom":)
---
Note these notes refer to non iPod Touch and iPhone devices. For these devices go here?.
Hardware:
Apple iPod and iPhone (2g, 3g) Dock Interfaces pinout
http://shufflehacks.blogspot.com/2005/12/build-your-own-imouse-fm-transmitter.html
Alternate firmware for iPods:
http://en.wikipedia.org/wiki/IPodLinux
Restoration:
http://www.felixbruns.de/iPod/firmware/
Apple KB - Restoring iPod to factory settings
iPod software:
http://wakoopa.com/search?query=ipod
Hacking iPod devices
http://hackaday.com/category/ipod-hacks/
http://electronics.howstuffworks.com/ipod-hack.htm
http://electronics.howstuffworks.com/ipod-hack1.htm
instructables.com articles on iPods
Voice Recording Magic with the iPod
http://www.wikihow.com/Record-on-an-iPod-for-Free
Using and iPod as a mobile PDA or database:
Encyclopodia – the encyclopedia on your iPod
Apple iTunes and iPods:
Where are the iTunes files stored
Transferring your iTunes library to a new or different drive
Share your whole playlist.
You can export a list of all of your subscriptions, either as a personal archive for yourself or to share with others. This option comes in handy when you'd like to introduce someone you know to podcasting because it allows you to send a file of "starter podcasts" for your newbie friend to subscribe to — all at once. Export subscription list
To export a list of your subscriptions, mouse over "Podcasts" in the source menu, right-click or control-click, and choose "Export." Choose "OPML" as the format. (OPML is a generally recognized format for sets of subscriptions.) Name and save the file wherever you want. At any time, you can re-import that file and iTunes will re-subscribe you to all of the podcasts inside. Or email it as an attachment to your uninitiated pals.
To subscribe to the podcasts in an OPML file, choose "Import" from the file menu and choose the OPML file. iTunes will begin downloading immediately.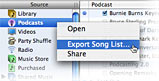 ---
Kevin's Public Wiki maintained and created by Kevin P. Inscoe is licensed under a
Creative Commons Attribution 3.0 United States License.
Back to my web site - http://kevininscoe.com