Include our styles below Infobox - invoke as >>infobox<< ... >><<
Codebox: - invoke as >>codebox<< ... >><<
warnbox: - invoke as >>codebox<< ... >><<
editingbox: - invoke as >>codebox<< ... >><<
noticebox: - invoke as >>codebox<< ... >><<
Page bread crumbs:

Pages by tags: (:listtags:)
Subscribe to this wiki:

RSS or subscribe to this page for changes:

RSS
496 articles have been published so far. Recent changes
(:addThis btn="custom":)
---
To program in 121.500 Mhz in AM:
If scanning press MAN/SCAN to manual.
Enter 121.5.
Press SEL. FREQ
Set the mode:
Press SHIFT --> AM (3).
Assign that 121.5 MHz to band 1 (not there is no concept of channel numbers):
Enter 1 -> SEL. BANK -> ADD.
It is easier if you just got the bank you want before entering the frequency.
In that case enter <bank number> and SEL. BANK.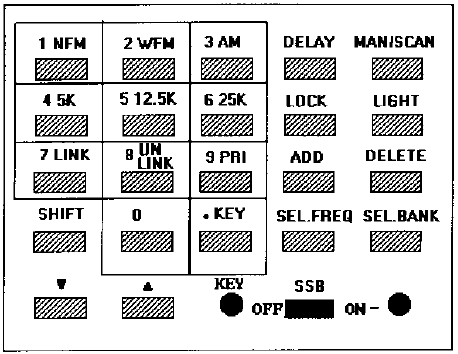 ---
Kevin's Public Wiki maintained and created by Kevin P. Inscoe is licensed under a
Creative Commons Attribution 3.0 United States License.
Back to my web site - http://kevininscoe.com