Include our styles below Infobox - invoke as >>infobox<< ... >><<
Codebox: - invoke as >>codebox<< ... >><<
warnbox: - invoke as >>codebox<< ... >><<
editingbox: - invoke as >>codebox<< ... >><<
noticebox: - invoke as >>codebox<< ... >><<
Page bread crumbs:

Pages by tags: (:listtags:)
Subscribe to this wiki:

RSS or subscribe to this page for changes:

RSS
496 articles have been published so far. Recent changes
(:addThis btn="custom":)
---
What I am looking for and why:
My original query out to Google+ went like this:
"Looking for open source plotting design software in the vein of R or Gnuplot but with relational objects. Ideas?
Btw. this isn't for statistics this is for actual drawings built to scale like Visio but using a command line to build the drawings. Meaning repeatable automatically and editable via programs rather than HID."
But I realized that was not articulate enough of an explanation so I wrote this article to further clarify what I am looking for.
I want to be able to generate application, system and network architectural drawings (logically, schematically and details) by simply entering object relationships and descriptions not unlike a simple form of UML. I want to supply an input file and rasterized, scalable vectored graphics or simple bitmap image file format images and have the software generate a drawing for me not unlike expensive Microsoft Visio.
Why not just use Visio you ask? Well I could I have it (2007). But you see I am not a visual person, <b>I am not a graphic artist</b> and worst of all I am busy person (ha you say!). I want to be able to describe the system or application, it's components and their relationship to each other and just make it look pretty automatically. I could see this thing feeding from a well configured configuration management system as well to produced automated drawings.
If you want to see an example of what I am talking about here is snapshot from one of my Nagios stautus maps: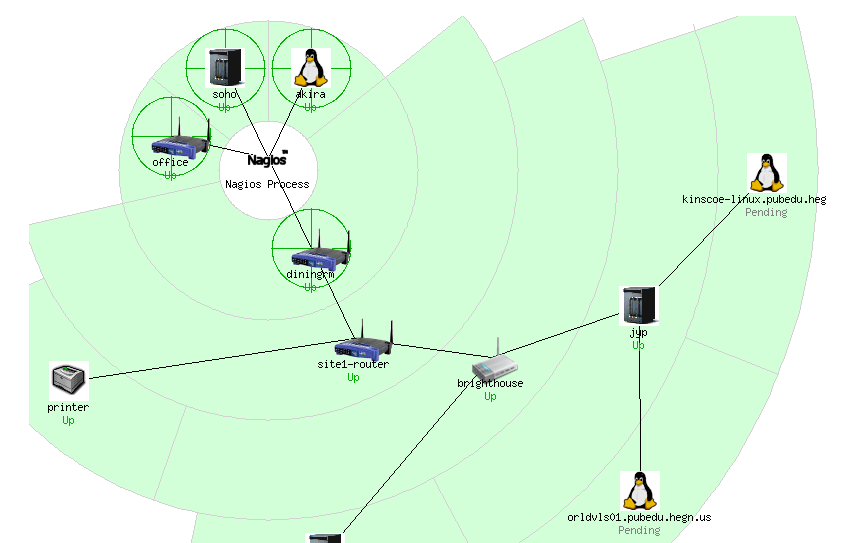 I will tell you that I almost sat down to write this thing myself. Did I mention I am busy? But that's how bad I want this solution!
What have I looked at to perform this task?
This is very close to what I am looking for.
http://graphviz.org/Gallery.php
http://www.poirrier.be/~jean-etienne/articles/graphviz/
Dia apparently can be scripted as well for UML.
http://en.wikipedia.org/wiki/Dia_%28software%29
What did you end up doing to resolve this issue?
TBD!
---
Kevin's Public Wiki maintained and created by Kevin P. Inscoe is licensed under a
Creative Commons Attribution 3.0 United States License.
Back to my web site - http://kevininscoe.com