Include our styles below Infobox - invoke as >>infobox<< ... >><<
Codebox: - invoke as >>codebox<< ... >><<
warnbox: - invoke as >>codebox<< ... >><<
editingbox: - invoke as >>codebox<< ... >><<
noticebox: - invoke as >>codebox<< ... >><<
Page bread crumbs:

Pages by tags: (:listtags:)
Subscribe to this wiki:

RSS or subscribe to this page for changes:

RSS
496 articles have been published so far. Recent changes
(:addThis btn="custom":)
---
I am having trouble getting the Toolbar in OliveTree Bible Reader to stop disappearing. My version is 4.12 engine version: 4.12.004359. On my iPhone 3g with iOS 4.0.1 installed I am unable to lock the toolbar. I cannot make the toolbar in Bible Reader stop disappearing. This used to work at one point on my iPod Touch (version 3 of BR) but since switching to an iPhone two months ago (and before the iOS 4 update) I have been unable to make this feature work. Please help as this problem I find this very very annoying.
Steps to reproduce:
First make the toolbar lock button visible:
Toolbar -> Menu -> Settings -> Other Settings -> Enable Toolbar Lock Button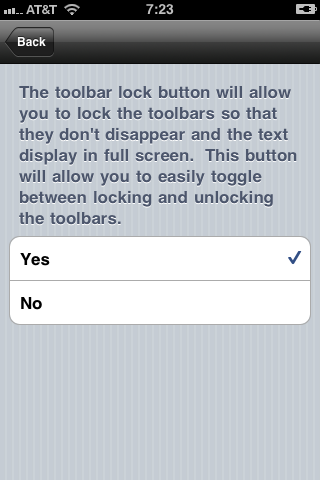 Now bring up toolbar and hit lock button above it: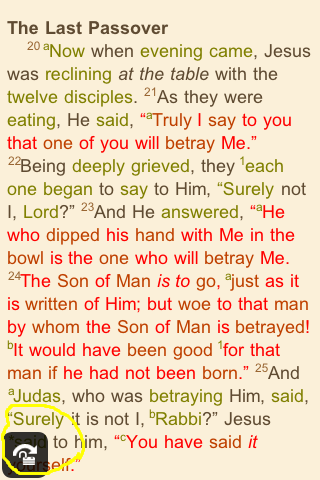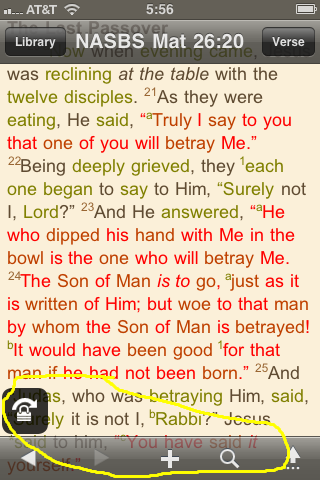 Buttt.... once I do this the toolbar STILL disappears. Very annoying as I have to stumble around a dead area of the screen (not much because of the Strongs) to bring up the toolbar again. I guess I am in the one percent who actually like this as it used to work this way in version 3.x.
How do I fix this?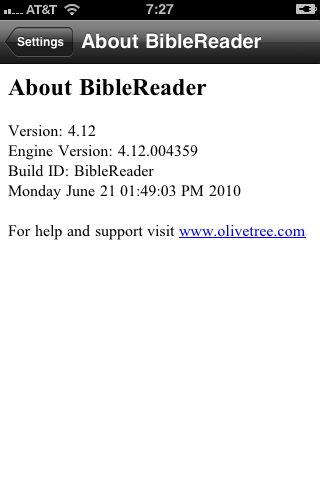 ---
Kevin's Public Wiki maintained and created by Kevin P. Inscoe is licensed under a
Creative Commons Attribution 3.0 United States License.
Back to my web site - http://kevininscoe.com