Include our styles below Infobox - invoke as >>infobox<< ... >><<
Codebox: - invoke as >>codebox<< ... >><<
warnbox: - invoke as >>codebox<< ... >><<
editingbox: - invoke as >>codebox<< ... >><<
noticebox: - invoke as >>codebox<< ... >><<
Page bread crumbs:

Pages by tags: (:listtags:)
Subscribe to this wiki:

RSS or subscribe to this page for changes:

RSS
496 articles have been published so far. Recent changes
(:addThis btn="custom":)
---
My iPhone tracker map as of May 5, 2011 (goes back about a year). For more information about how I did this scroll down below the picture.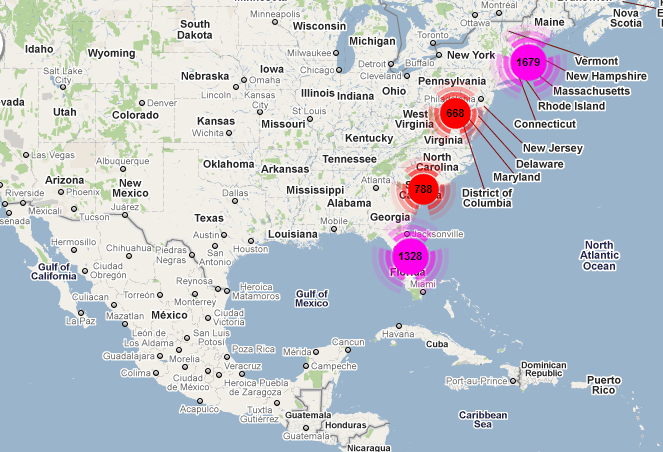 For those that want to know I used this program: http://www.iphonelocationtracker.co.uk
More info on this is at: http://www.huffingtonpost.com/2011/04/28/apple-iphone-tracking-denial_n_854983.html
More programs that can parse that secret data Apple has graciously stored for us: http://answers.yahoo.com/question/index?qid=20110422041040AAezgjy
This windows program will export the data as a CSV file: https://sites.google.com/site/nphonetrack/
Here is the CSV and Google Earth KML files (I don't care if you look at it):
Attach:KevinPInscoeiPhoneTrack20110510.csv
Attach:KevinPInscoeiPhoneTrack20110510.kml
Note that if you update to iOS 4.3.3 this "bug" will be removed and you will lose your history. So export the file now before you do that! Personally I think it's cool!
http://skattertech.com/2011/04/apple-denies-big-brother-status-in-saved-iphone-location-data-controversy/
http://radar.oreilly.com/2011/04/apple-location-tracking.html
Here is some more gory detail about the Mainfest.mbdb files:
http://stackoverflow.com/questions/3085153/how-to-parse-the-manifest-mbdb-file-in-an-ios-4-0-itunes-backup
http://code.google.com/p/iphonebackupbrowser/wiki/MbdbMbdxFormat
http://www.employees.org/~mstenber/iphonebackupdb.py
---
Kevin's Public Wiki maintained and created by Kevin P. Inscoe is licensed under a
Creative Commons Attribution 3.0 United States License.
Back to my web site - http://kevininscoe.com