Include our styles below Infobox - invoke as >>infobox<< ... >><<
Codebox: - invoke as >>codebox<< ... >><<
warnbox: - invoke as >>codebox<< ... >><<
editingbox: - invoke as >>codebox<< ... >><<
noticebox: - invoke as >>codebox<< ... >><<
Page bread crumbs:

Pages by tags: (:listtags:)
Subscribe to this wiki:

RSS or subscribe to this page for changes:

RSS
496 articles have been published so far. Recent changes
(:addThis btn="custom":)
---
http://www.weather.gov/emwin/index.htm
Good overview of the system as a PDF (original found here):
EMWIN is in transition to EMWIN-N (II).
"These updates were all related to transition to the GOES-N satellite at such time as it becomes operational."
GOES-N launched on May 24, 2006 and is now operational as GOES-13.
http://semparpac.org/alany/uscg/emwin.htm
EMWIN is a service of NOAA and is delivered via satellite, or internet. EMWIN is received from GOES East or GOES West satellites - currently using GOES 11 and 12. GOES 13 has been placed in orbit as a replacement which will utilize the EMWIN-II format.
When GOES 13 is activated, the EMWIN transmission will be upgraded to 19,200 baud (currently 9600) and will use a new format (EMWIN-II) that requires a new receiver. The old ones for EMWIN(-I) will not work with the new format.
To support Beta testing, NOAA has made available a signal on GOES 10 that uses the new 19,200 baud format at 1691.4MHz. At present, it provides the same EMWIN information as GOES East & West plus radar plots.
The receiver specifications can be found here.
PDF of above Word document:
Block diagram of a typical EMWIN installation: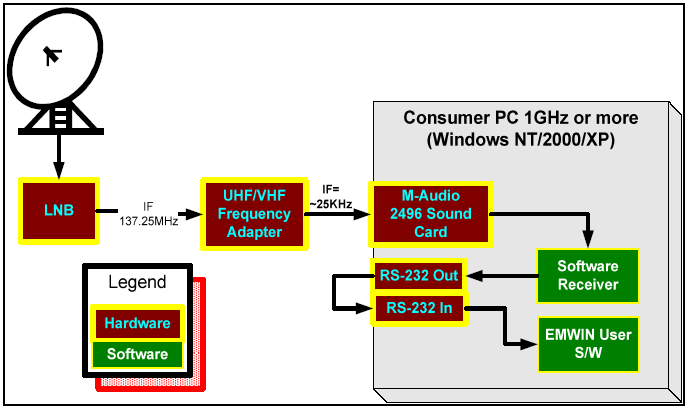 Software:
Unfortunately the system is setup heavily on using Microsoft proprietary operating systems under the assumption that it is the most ubiquitous. Although there is nothing proprietary about the specifications the hardware I have seen that receives and demodulates EMWIN-N streams relies on a soundcard installed on a personal computer (most notably Intel based). To date I am not aware of any either open source or Linux versions of this demodulating software. If you know of some please let me know. kevin at inscoe <dot> org. Of course you could deploy a commercial Microsoft Windows demodulator that converts the output to serial port or USB and read that in on Linux system. I am actively looking for ways to either perform the demodulation on Linux or in a hardware based production for ingest directly into a Linux server.
Microsoft Windows:
http://www.weather.gov/emwin/winven.htm
The leading commercial product (server) I have found is Weather Message. Note that the client is free to deploy which can connect to a server somewhere on the network and the server comes with a 30-day trial period.
Linux (clients):
http://sourceforge.net/projects/open-emwin (EMWIN-I streams only and has not been updated since 2002)
http://sourceforge.net/docman/?group_id=432 (Documents for OpenEMWIN)
As far as I can tell the public streams for EMWIN Internet ingestion are no longer available although you could use this software to ingest from a private stream some where if one still exists.
There is also Perl EMWIN which I have used in the past.
Mirror copy of Perl EMWIN below:
There is an EMWIN C Library written Greg Hewgill. It is seems to be located here in CVS: http://hewgill.com/viewvc/emwin/trunk/. Greg also has a cool program called WxTray located at http://hewgill.com/viewvc/wxtray/.
FreeBSD:
http://www.noaaport.net/ - More oriented towards NOAAPORT.
Internet data Feeds:
Of course data feeds from satellite are always best but if you cannot afford a receiver and dish setup or there is no EMWIN radio transmitter in your locale then this is the next best option. Keep in mind there is always propagation delay in Internet transmissions. There are also commercial sites who can provide "push" data your pager, mobile device or email such as StormNow which I have used since the 90's and is very reliable.
Data used to be consolidated from the NWS IWIN site but that site was terminated in 2006. See also this document. The data sources have changed considerably and and now scattered all over the NWS sites. A good starting point for data is the text products home http://www.weather.gov/view/ and the RSS feeds page http://www.weather.gov/rss/. But most importantly this experimental page: http://www.nws.noaa.gov/alerts/.
Common Alerting Protocol info here.
Mobile site: http://www.srh.noaa.gov/cte.htm
Also looking into Unidata Local Data Manager (LDM).
Warning Decision Support System -- Integrated Information - Automated algorithms, tools and displays for analysis, diagnosis and forecasts of severe weather phenomena
---
Kevin's Public Wiki maintained and created by Kevin P. Inscoe is licensed under a
Creative Commons Attribution 3.0 United States License.
Back to my web site - http://kevininscoe.com