Life Plan
Jump to navigation
Jump to search
http://en.wikipedia.org/wiki/Any_Road
The refrain "If you don't know where you're going, any road'll take you there" was ... and the Cheshire Cat in Chapter 6 of Lewis Carroll's Alice in Wonderland
Divine, Define, filter and refine
Priorities
It was derived from several sources both divine and inspirational. First the inspirational:
These are the two man books I derived my organization skills from:
http://www.amazon.com/Getting-Things-Done-Stress-Free-Productivity/dp/0142000280
http://www.amazon.com/The-Habits-Highly-Effective-People/dp/0743269519/ref=sr_1_sc_1?s=books&ie=UTF8&qid=1362069159
The values part of it comes from many sources but what got me thinking about it originally is coming through the Franklin-Covey time management course I took back in 1997. Covey has this concept of a mission statement and values. I don't dropped the mission statement is being too simplistic in today's complicated and plural society. But I did like his idea of values. Even though it's tired and worn out phrase it's still cultural and true today. I just personalize it more.
Ok so you have seen the standard priorities chart, urgent, non-urgent, etc…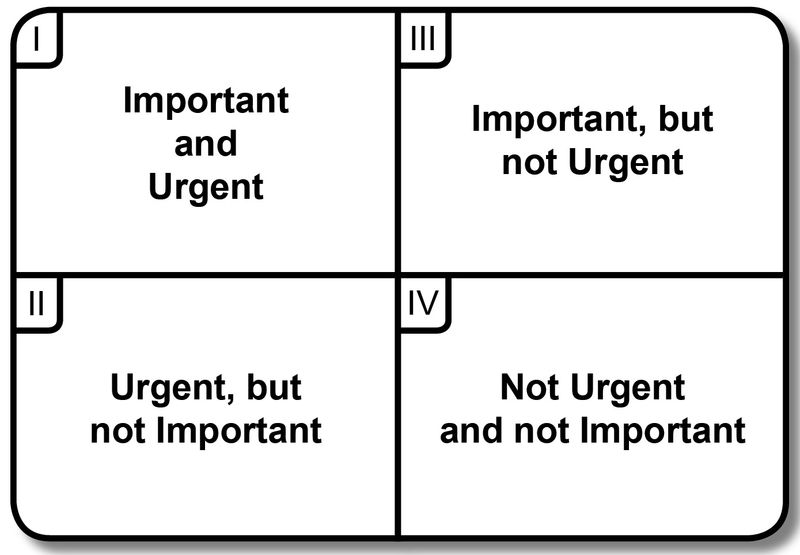 I just took that to a different level with the main assumption that there is no humanly way I can accomplish all that I would like to do in this moment or in this lifetime. So that end I now place all perceived tasks or objectives in the following quadrants: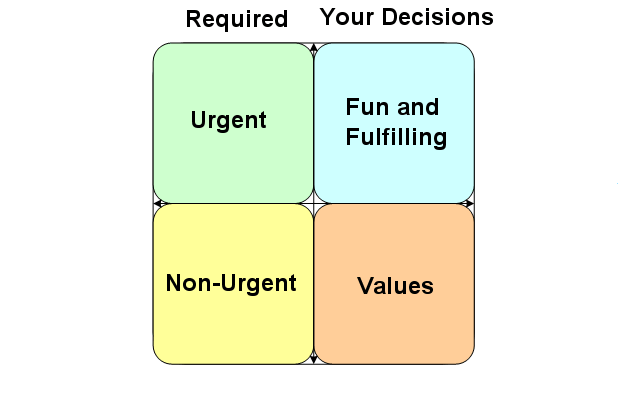 I still apply the classic priority chart from Cover above but only after first running it through the quadrant filter above.
Lastly I set dates to (hard and when I would like to accomplish based on resources, availability and time constraints).
Notes
http://www.qideas.org/video/calling.aspx File:Find Your Calling by Q Ideas.mp4
File:Michael Hyatt Creating Your Personal Life Plan.pdf
http://artofmanliness.com/2011/02/08/create-a-life-plan/
http://www.psych.uic.edu/uicnrtc/sdlifeplan.pdf
http://christianity.about.com/od/newchristians/qt/decisionmaking.htm
http://www.dougbrittonbooks.com/onlinebiblestudies-selfworthandrespect/godhasplansforyou-youhaveapurpose.php
http://winteryknight.wordpress.com/2011/11/16/does-the-christian-life-involve-taking-the-initiative-and-executing-plans/
http://www.str.org/site/News2?page=NewsArticle&id=5094
http://www.blueprintforlife.com/
http://christianfaithatwork.com/how-to-create-a-life-plan-document/
http://christianfaithatwork.com/how-to-create-a-life-plan-dashboard/
http://christianfaithatwork.com/are-you-making-this-common-mistake-with-your-life-plan/
http://www.gospelway.com/christianlife/change_yourself.php
http://bible.org/article/should-christian-set-goals
http://www.christianlifecoaching.co.uk/goal-setting-tips.html
http://www.churchcentral.com/blog/7657/How-to-Achieve-a-Preferred-Future
Here are some example goals
On or before June 6, 2011, I weigh 175 pounds.
On August 31, 2011 or sooner, I can perform 25 pull-ups.
I have paid off $30,000 worth of debt on December 31, 2015 or sooner.
I run my own blacksmithing business by June 30, 2014.
I live in Vermont in a small cabin and make $60,000 a year selling homemade maple syrup and moose skin rugs by April 1, 2015.
http://www.afci-usa.org/index.php?option=com_content&view=article&id=136%3Aonpath-living-is-a-biblically-based-one-day-work-and-life-assessment-program&catid=35%3Agary-omalley&Itemid=59
Life Assessment
Values/Skills Identification
Maximizing FIT at Work
Intentional Living
Behavior Profiles
Setting Life Priorities
Plan
Giving
Debt reduction
Preparation
Education
Weight reduction
Bible Study
CAMS and MIP
Purchase an iPad